Animal Control
Dog Ordinances
Beginning the Saturday before Memorial Day, through the Saturday after Labor Day, dogs are not permitted on Town Beaches between the hours of 9:00 a.m. and 7:00 p.m, except Saturdays when dogs are not permitted from 9am-9pm.
The only exception will be the area between Wallis Sands State Park and Odiorne State Park where dogs and people are allowed except between the hours of midnight and 6:00 a.m. when the beach is closed. Owners are subject to a $62.00 fine for any violation.
Leashes are not required, however, dogs must be under control by means of personal presence and attention as will reasonably control the conduct of such dog.
Dog owners must immediately pick up any waste left by the dog. Owners are subject to a $50.00 fine for failure to do so.
Visit the State of NH website for state laws regarding dogs.
Visit the ordinances page for a complete list of town ordinances regulating dogs.
Frequently Asked Questions
Wildlife FAQ
New Hampshire Fish and Game website will answer most wildlife questions regarding a deer, fox, skunk, bird, turtle, etc.
Where is my dog brought if picked up by the Rye Police Department?
If the Rye Police Department picks up a loose dog, it is generally brought to New Hampshire SPCA. If the dog has a license affixed to the collar (as required by State Law), officers may try to contact the owner before taking it into custody.  If it is after business hours, the owner must wait until the next business day until the kennel is open. The dog owner may be subject to a summons, especially if there are prior offenses.
I have lost my pet, what should I do?
If you have lost your pet, you should contact the Rye Police Department in case someone has reported it found. You could also contact New Hampshire SPCA to see if the Rye Police Department or another citizen has turned it in.
Does the Rye Police Department pick up any animals other than dogs?
No. The Rye Police will only pick up loose dogs. If you have lost a cat or other pet, you may still notify us in the event someone calls to report it found.
I have found someone's pet, what should I do?
If you find a loose pet, check to see if there are any ID tags on the collar. You also may call the Rye Police to find out who the owner is and if there is a dog license. If you are unable to determine the owner, you may bring the pet to the Rye Police Department.
What can I do about the dog next door that is left outside and continually barks?
If a dog barks for sustained periods of time more than ½ hour, or during the night hours so as to disturb the peace and quiet of a neighborhood, the dog owner is in violation of the dog ordinance. Excessive barking can be reported to the Rye Police who will investigate. If this occurs during non-business hours the responding police officer will listen for the barking and take what immediate action is necessary. The Animal Control Officer may issue the dog owner a violation notice and will give the owner guidance in curbing nuisance barking. Subsequent complaints may lead to a court summons.
Where can I bring my injured animal for emergency treatment on a weekend or holiday?
Veterinary Emergency Center 
15 Piscataqua Dr.
Portsmouth, NH
431-3600
What should I do if I hit a dog with my vehicle?
You should remain on scene and call police. According to RSA 264:31, the driver of any vehicle who knowingly strikes a dog and fails to report the incident to the dog's owner or custodian or to a police officer as soon as possible, shall be guilty of a violation.
Animals in Parked Vehicles
Do not leave your animal in a vehicle while it is unattended. Unattended animals left in vehicles even with the windows partially opened are still subject to heat stress. When an animal breathes only hot air your pet can quickly suffer from brain damage and die from a heatstroke.
RSA 644:8-aa, states that
It shall be cruelty to confine an animal in a motor vehicle or other enclosed space in which the temperature is either so high or so low as to cause serious harm to the animal.
Any person in violation of this section shall be guilty of a misdemeanor.
Any law enforcement officer or agent of a licensed humane organization may take action necessary to rescue a confined animal endangered by extreme temperatures, and to remove the threat of further serious harm.
If you suspect your animal's body heat becomes elevated you must lower his/her body temperature immediately! Get them to some shade and apply cool, not cold, water all over his/her body; apply ice packs or cold towels to only the head; Let him/her drink small amounts of cool water, or lick ice cubes or ice cream; Get your pet to a veterinarian right away.
Seals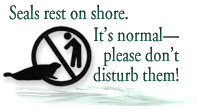 Seals regularly come ashore to rest, but people often assume that a beached seal is in distress. Some seals can in fact spend many days ashore at a time, and they do not need to stay wet. It is common to find seals on land, since they normally spend much of their time out of the water resting, sunning or sleeping. Under the Marine Mammal Protection Act, people need to stay 100 yards or more away from the seal. If you notice any entanglement or obvious injuries, call the Seacoast Science Center Marine Mammal Rescue Team 24 hours hotline at (603) 997-9448. If you find someone disturbing a seal on the beach, contact the Rye Police Department at 964-5522.
For more information, go to the Seacoast Science Center Marine Mammal Rescue Team webpage.
Seagulls
If you find an injured seagull, you may contact The Center for Wildlife in Cape Neddick, ME at 207-361-1400. They are a federally approved wildlife rehabilitation center. The Rye Police Department will not transport the seagull. If you would like to transport the seagull for care, call The Center for Wildlife ahead of time to be sure they will accept it.