Coronavirus

For the latest information, resources, and guidance related to Coronavirus (COVID-19), visit:
New Hampshire residents with questions or concerns surrounding the COVID-19 outbreak can call 2-1-1. "211NH will serve as a coordinated and streamlined process for any Granite Stater concerned about the coronavirus," said Governor Chris Sununu.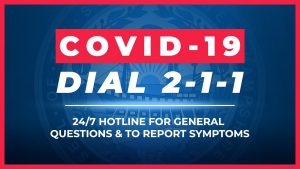 In addition to federal and state restrictions on certain activities, below are updates specific to Rye.
Rye Police and Rye Fire remain fully operational and, as always, are prepared to handle any emergency 24/7. Rye Emergency Operations Center is partially activated to monitor department functions and the Town's response related to the COVID-19 crisis. Local and state officials are in constant communication to ensure we are up-to-date with this rapidly evolving situation.
Rye Town Hall: Closed to the public. Non-essential town meetings have been cancelled for 30 days. Board of Selectmen meetings continue to be streamed online via Town Hall Streams, or Zoom.com. Many town functions can be performed online as well. Residents are encouraged to visit town.rye.nh.us for further information. If you have any questions or concerns, please call 964-5523 Mon-Fri 8am-4:30pm. Click here for the related press release.
To watch and/or participate in meetings, use Zoom.com ID# 490-867-9230. Here are the instructions to do so.
Town Clerk / Tax Collector: Closed to the public. Many services are available online by visiting town.rye.nh.us, including vehicle registrations, beach permits (not in effect until May 1), dog licensing, property tax payments, and sewer payments. Payments can also be made over the phone by credit card. If you have any questions, please call 964-8562 or email ddecotis@town.rye.nh.us.
Building Department: Closed to the public. All permit applications are on the Town website town.rye.nh.us. These can be printed and mailed to the Building Department at 10 Central Rd Rye, NH 03870. Any questions can be answered at 964-9800 or email mmarsden@town.rye.nh.us, prowell@town.rye.nh.us, or sdufresne@town.rye.nh.us. Click here for press release.
Recreation Department: The Rye Recreation Area Playground and Fields are closed until further notice. Rec office closed to the public, however staff will be following their normal work schedule. All programs suspended until May 4. Registrations and payments will be accepted by mail and online. There is also a drop box located outside the recreation office at 55 Recreation Rd. If you have questions, please do not hesitate to contact the recreation office at 964-6281 or email larthur@town.rye.nh.us. In addition, they have also suspended the April 9, 2020 Over 55 Luncheon and April 17-18, 2020, Rye Art in Bloom, and the May 14, 2020 Over 55 Luncheon.  Click here for press release
Public Works/ Recycling Center: Open, however the Public Works office is closed to the public. The transfer station will no longer accept bulky materials, construction debris, tires, propane tanks, waste oil, and white goods with refrigerant, all electronic items. Click here for press release.
Rye Schools: Closed until May 4. Click here for more information
Rye Library: Closed. They have a wide variety of resources on their website still available.
All Beaches: Closed, including associated parking lots. Playgrounds and indoor facilities are closed.  State Parks website.  Seacoast Science Center is closed.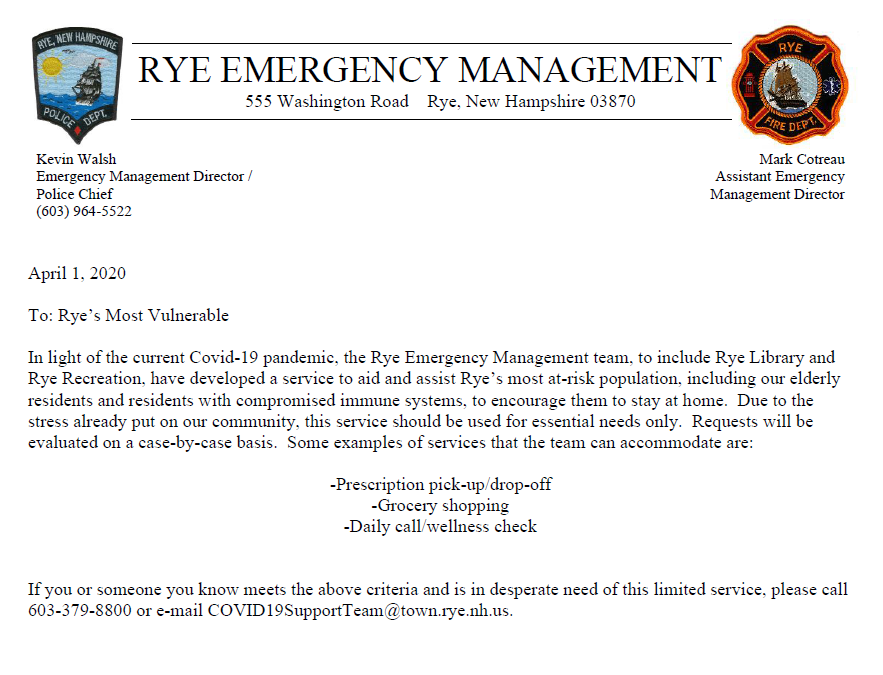 We will share any updates on our website as well as social media as they become available.
Last update: 4/2/2020 @ 1545