Coronavirus

For the latest information, resources, and guidance related to Coronavirus (COVID-19), visit: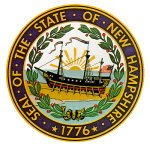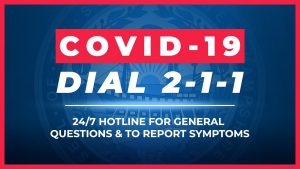 In addition to federal and state restrictions on certain activities, below are updates specific to Rye.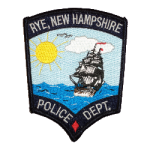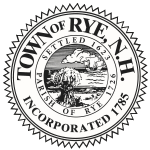 Rye Police and Rye Fire remain fully operational and, as always, are prepared to handle any emergency 24/7. Rye Emergency Operations Center is partially activated to monitor department functions and the Town's response related to the COVID-19 crisis. Local and state officials are in constant communication to ensure we are up-to-date with this rapidly evolving situation.
All Beaches: OPEN. Please maintain social distancing while on the beach.
All parking restrictions were lifted on 10/13/20.
Rye Town Hall: Opening to the public on July 6
As Town Hall re-opens to the public on July 6, 2020, we ask all individuals to please take a moment and review the following information.
The following measures will be in effect for all individuals entering the Town Hall:
1. All individuals entering the Town Hall need to wear a mask before entering. If you do not have one, one will be provided for you.
2. There will be a touchless hand sanitizer station in the foyer or hand sanitizer will be made available upon entry.
3. Please make sure your mask is on and you have sanitized your hands before entering the building from the foyer.
If for any reason an individual is unable to comply with wearing a mask, we ask that you call the appropriate department and make alternate arrangements to transact your business.
Board of Selectmen meetings continue to be streamed online via Town Hall Streams, or Zoom.com. Many town functions can be performed online as well. Residents are encouraged to visit town.rye.nh.us for further information. If you have any questions or concerns, please call 964-5523 Mon-Fri 8am-4:30pm. Click here for the related press release.
To watch and/or participate in meetings, use Zoom.com ID# 490-867-9230. Here are the instructions to do so.
24/7 online services include: Dog Licenses, Vehicle Registrations, Tax and Utility Payments,
Public Works/ Recycling Center: Open, however the Public Works office is closed to the public.
Recycling is now being accepted. Please follow staff instructions and social distance.
Bulky waste is open.
Swap shop remains closed.
Recreation Department: Closed to the public.
Rye Library:  Rye Library announcement
Seacoast Science Center: Open weekends only. Seacoast Science Center website
State Parks and State Beaches: Open.  NH State Parks COVID-19 Update Page
Star Island / Isle of Shoals: Closed. Click here for press release.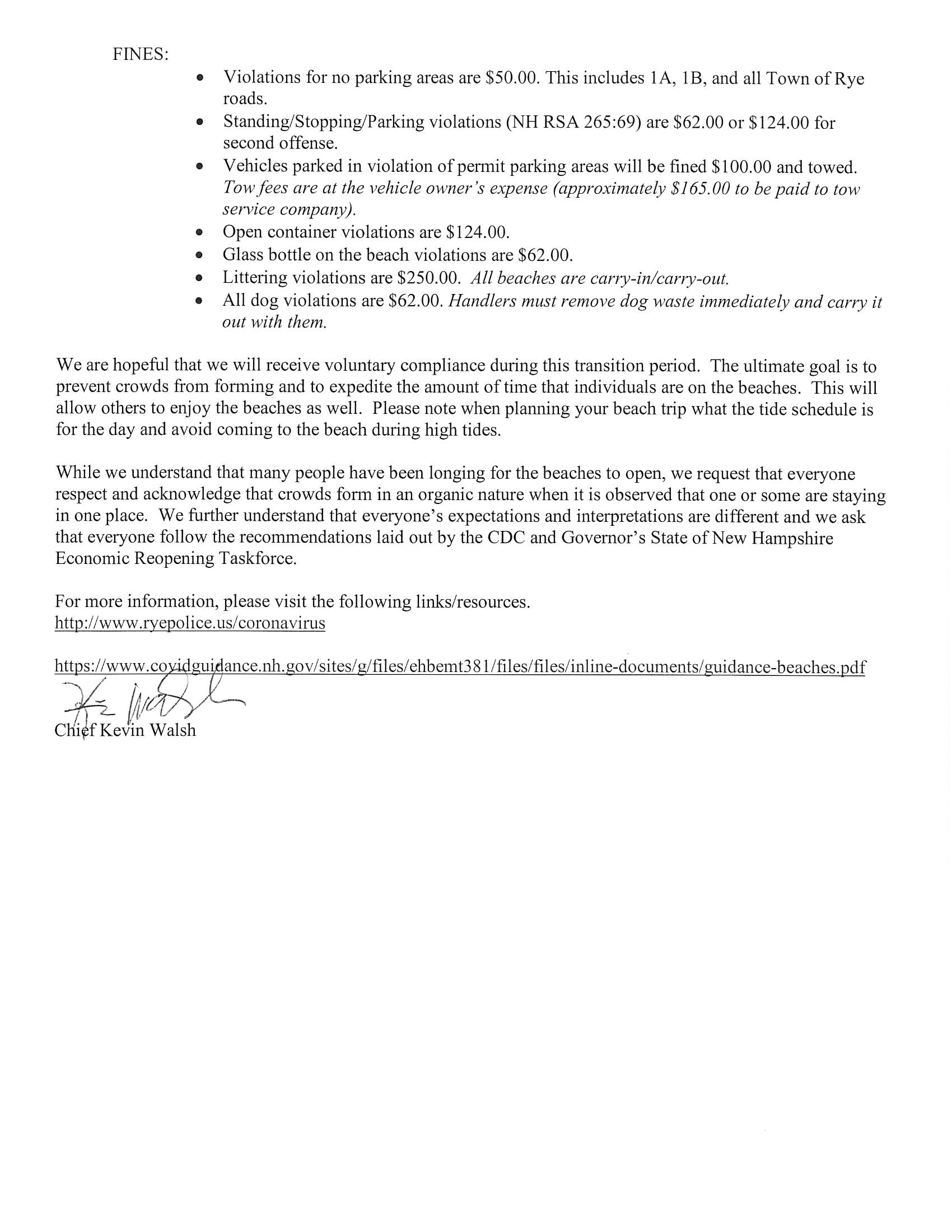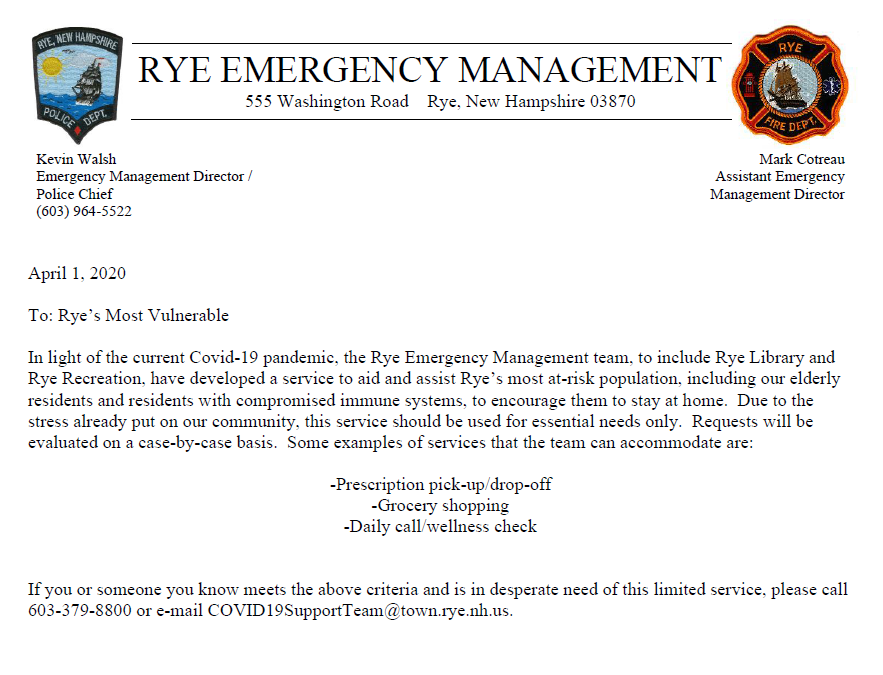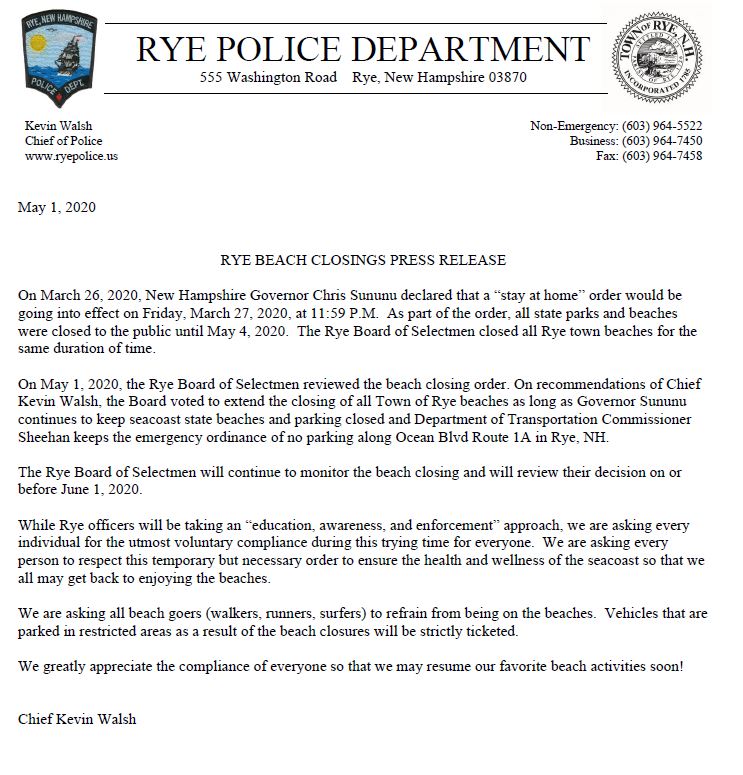 We will share any updates on our website as well as social media as they become available.
Last update: 12/14/2020 @ 2100