Marine Location Marker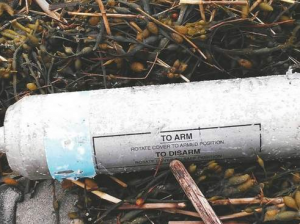 On May 23, 2014 at approximately 11:24 a.m., Rye Police and Fire Departments were dispatched to the beach near 2326 Ocean Blvd. for a suspicious device.  The caller showed the Rye Officer a metal tube on the beach.  It looked as if the metal tube had washed in with the tide. The words "to arm" were printed on the outside with arrows pointing to the end of the metal tube.  The officer took a picture and e-mailed it to New Hampshire State Police Bomb Squad. Trooper Jeffrey Dade confirmed the device was a marine location marker. The marine location marker contains phosphorus, a dangerous hot burning material. Trooper Dade said the bomb squad would respond to make sure the device was disposed of properly. The device was brought to Parson's Field, made safe and disposed of by New Hampshire State Police. New Hampshire State Police believe the marine location marker may be used by the Canadian Navy or Coast Guard.
If you see something that appears unusual and you're not sure what it is, DO NOT pick up the item.  Call your police and/or fire department and we can make sure the item is safe. The Rye Police would like to thank New Hampshire State Police for their assistance.