Suspicious Object on West Rd.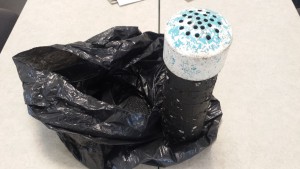 On Thursday May 14, 2015, Rye Police were dispatched to West Rd and South Rd for an object that looked suspicious. The caller stated it was a round shape and had black powder next to it. Rye Police and New Hampshire Fish and Game arrived and found the item.
A picture was sent to New Hampshire State Police Bomb Team. They responded and tested the black substance. The Bomb Team confirmed the black powder was NOT flammable.
Rye Police are asking the public for help. Based on the location in the travel lane of a road, it is believed the object may have fallen off a vehicle. We are asking if anyone knows what the home-made object is and what the black residue or powder is.
If you have any information regarding this or any other crime, please contact the Rye Police Department at 603-964-5522, or make an anonymous tip through Seacoast Crime Stoppers at 603-431-1199 or www.seacoastcrimestoppers.org.